"The one next to The Gherkin, that isn't The Tulip."

The Baltic Exchange
38 St Mary Axe
London
Client — Baltic Exchange Holdings ltd
Area — 5,844sqm
Use — Commercial Office
Status — Planning and Listed Building Applications submitted
Our proposals for this Grade II listed building next to the Gherkin upgrade it to a BREEAM Outstanding rating and, over only 6 storeys, will provide a similar net area to the now defunct 'Tulip', (originally proposed immediately next door - and at 305m tall - well in excess of 80 storeys).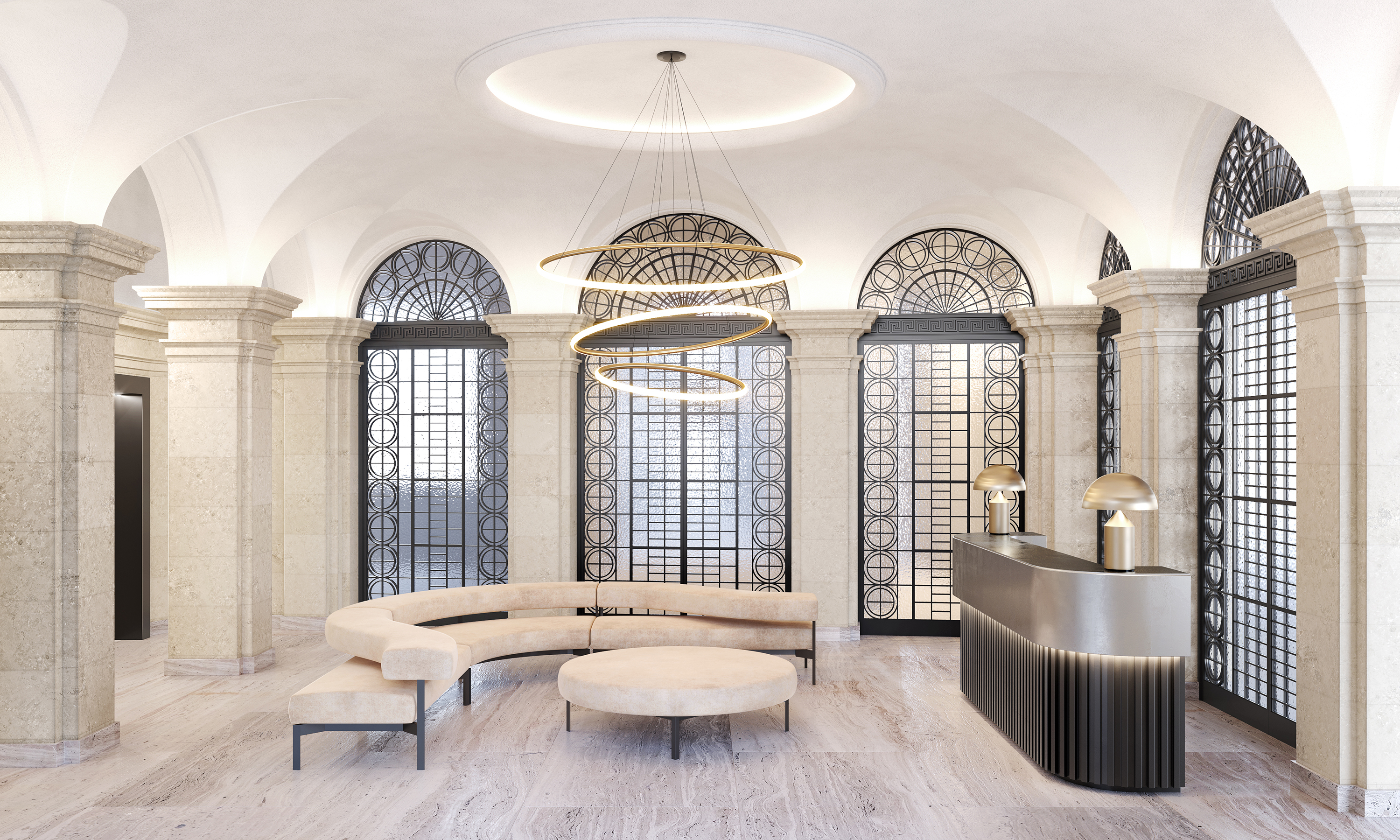 The reception has a simple material palette and hugely improved lighting.



Stairs are given more prominence in the 'peristyle' lobby - to encourage what we call 'active movement' - and what everyone else calls 'walking up and down the stairs'.


When originally designed - Primary (green) and Secondary (blue) facades suited their visibility in the townscape.
...so we're going to upgrade it to make it look 'Primary'.
As now - a changed townscape makes the secondary facade much more visible than when it was originally conceived.
...we'll tidy up the rest of it too - with new balconies on each floor and a huge new roof terrace for everyone to share.


Having been almost destroyed by the IRA's tragic 1992 bombing of the original Baltic Exchange building next door, in which 3 people died, the Grade II listed building includes a decorative Portland Stone façade to St Mary Axe by Sir Edwin Cooper (who was also responsible for the 1920's façade retained within Richard Rogers' Lloyds building nearby). The 'secondary' façade to Bury Court is much less ornate and was originally concealed by buildings which have now been removed.

Our proposals re-imagine how the original architect might have designed this 'secondary' façade as a 'primary' façade - had he been presented with the civic space now surrounding the base of the Gherkin. This means adding more assertive architectural elements, for example new projecting dormers to the roof, and reinforcing a latent symmetry in the design by creating a new glazed 'notch' between the Bury Court and St Mary Axe elevations.

The 'notch' also re-introduces natural light into the deepest part of the building plan and enables the creation of balconies on every floor of the building – providing external amenity space for the well-being of occupants.



Arrival on the floorplate is greeted with views through to the Gherkin.



Most of the floor plate is being cleared out to improve natural light and provide open-plan flexibility. A 'memory' of the building's original layout will be retained in the treatment of the ceiling.



Getting rid of a load of mechanical and telecoms kit on the roof allows us to make a great new terrace.


Come and see us:

17 — 19 Leicester Square
London, UK
WC2H 7LE